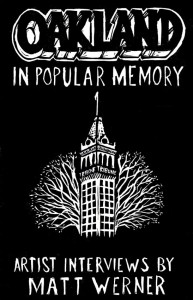 Purchase Oakland in Popular Memory today from Amazon, Thought Publishing, or these Bay Area independent bookstores. Read more about the book in California Magazine.
Oakland in Popular Memory: Interviews with 12 cutting-edge musicians from Oakland and beyond is a collection of Matt Werner's best interviews from his award-winning radio show on Fresh Air: The Alternative, and various other interviews he's done with leading artists from Oakland, California and artists who've influenced musicians from Oakland.
These artists include Chinaka Hodge, Dahlak Brathwaite, Dave Smallen, George Watsky, Ise Lyfe, K.Flay, Kid Beyond, MC Lars, Rafael Casal, Saul Williams, Talib Kweli, and Victor Vazquez.
Topics covered in the interviews include: the 2008 election of President Obama, Occupy Oakland, postmodern literary theory, the changing landscape of music publishing, race relations in Oakland, and thoughts on the Hyphy Movement.
Preview the book on Google Books. Read excerpts from the interviews and writing in the book on mattswriting.com, TheRumpus.net, Oakland Local, Huffington Post, and East Bay Express.
Publication date: May 15, 2012.
Price: $15
Books is edited by Matt Werner.
Featuring interview transcriptions by Korin McGinty, artist portraits by Laura Tomlinson on Google+, photography by Joe Sciarrillo, and cover by Dave Smallen. Contributing editors: Nabeel Younan, Korin McGinty, and Sam Felsing.
Like the book on Facebook. Download the press release (PDF).
See my Authors@Google talk about the book:
Book Tour Dates 2012:
Back cover description:
The image of Oakland, California has been tainted in the mainstream media with news reports focusing on violence in Oakland. Matt Werner explores a different narrative in Oakland in Popular Memory, interviewing young artists from Oakland, and established artists who've influenced Oakland musicians.
Matt Werner, in the spirit of Studs Terkel, conducted long-form interviews from 2008-2012 which cover the 2008 election of President Obama, the shooting of Oscar Grant, and the Occupy Oakland protests. Werner spoke with these artists at length, discussing topics like race relations in Oakland in the post-Oscar Grant era, postmodern literary theory, and the changing landscape of the music industry during the digital revolution.
Through these interviews, Oakland is seen as an engine of cultural innovation, as a city bustling with lively avant-garde art and music scenes, spanning from indie rock to spoken word to hip-hop. Oakland in Popular Memory captures those artists putting a new "there" in Oakland. This book project was funded through Kickstarter.
ISBN: 9780982689837
Library of Congress Control Number: 2012937738